Cubans: Refugees or Exiles?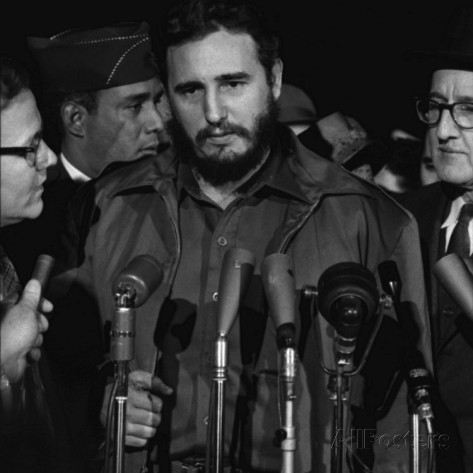 Slide your cursor over above photo ...
Cuban immigration to the U.S. began in the Spanish Colonial Period. When Pedro Menéndez de Avilés established St. Augustine, Florida in 1565, hundreds of Spanish-Cuban soldiers moved to the city. During the Ten Years War (1868-1878) between Cuban nationals and the Spanish military, Cuban cigar manufacturers moved their operations - along with hundreds of workers - to Florida to escape unrest. From 1900-1959 an estimated 100,000 Cubans immigrated to the U.S., including those looking for work during the Great Depression, anti-Batista refugees, as well as supporters of the ousted Batista government in 1959.


In 1960, rumors spread through Cuba that Fidel Castro was planning to take children from their parents and put them in military schools or send them to the Soviet Union for communist indoctrination. In response to the perceived threat, the United States began Operation Peter Pan, or Operación Pedro Pan. The CIA ran the program between 1960 and 1962. The idea was to fly children of parents who were opposed to Castro's government to the United States and place them in homes where they were to wait to be reunited with their families.

According to a Miami magazine article written by Juan Carlos Rodríguez, it was referred to as Operation Peter Pan because of the Disney movie where Peter Pan had taken the three Darling children away to Never-Never Land. Rodrígez goes on to say that the name of this operation was sadly ironic because many of those children who were sent out of Cuba, the United States would be a land from which they would never, never return home.

When the children arrived in Miami, they were met by Father Bryan O. Walsh, Director of Catholic Welfare Bureau, who made sure they were safe and received housing and food. Eventually, the biggest problem for the Catholic Welfare Bureau as the number of Cuban children grew week by week, was the lack of facilities to care for the minors in Miami. This was solved by asking Catholic Charities agencies around the country to provide foster homes and group care homes for the young exiles.

By the time the program had ended, about 14,000 children had been transported to Miami and then placed with friends, relatives and group homes in about 35 states.
In 1962, The Rev. Edward J. McGovern, Chairman of the Diocesan Bureau of Social Services was asked by Father Walsh and the Miami Catholic Welfare Bureau to help place families in Rhode Island. Beginning early that year, 30 Cuban children were brought to Rhode Island through the Catholic Charities Bureau of RI and the St. Vincent de Paul Society.

When they first arrived, many of the children were first placed in temporary homes in Bristol, while more permanent homes were found for them. According to local records, Laurence O. Paquette, president of the Central Council, St. Vincent de Paul rallied 16 Catholic parishes around Rhode Island to host some of the Cubans, including St. Paul's Church in Cranston, St Peter's in Warwick, St. John and St. Teresa in Providence, among others.

The stories of some of these children were featured in the pages of the Providence Journal or Evening Bulletin stories, including the following:
Modesta "Cookie" Valdivia was 12 years old in 1962 when she went from Miami to Denver, CO and then to a foster home in Bristol for a few months. Eventually she went to live in a home on Williams St. in Providence before she was reunited with her mother and 11-year-old sister, María, in May of 1966. By then, Modesta was 16 years old. The three of them quickly moved into an apartment on Orms Street in Providence.
Carlos Hernández was 9 years old when he moved to Bristol in March of 1962. He attended St. Elizabeth's School. Blanca Rosa Maria de la Concepción, a 26-year-old former teacher from Sancti Spiritus, Cuba, who was working as a housekeeper in Lincoln, RI was called in to meet and comfort Carlos. The story noted that Carlos was very home sick because had left a sister behind in Miami, and his parents were still in Cuba – his father was a "political prisoner" and his mother was "critically ill."
In April of 1962, three girls were placed at the St Aloysius Home in Smithfield, RI: Maria Cristina and Maria Elena (sisters); Clara and Nancy (sisters); and Vivien and Ileana (sisters). No boys were taken because St. Aloysius did not have room for boys. All the parents of these girls were still in Cuba. According to the newspaper, the girls' last names were not printed in the paper because organizers all felt "nervous about backlash to the families of these Cuban children back in Cuba."

By October of 1962, records show that "an additional 190 Cubans" were brought to Rhode Island since the first groups began to arrive.
Commercial flights between the US and Cuba ceased with the Missile Crisis of October 1962. This began a three-year period during which travel between the two countries was through third countries, Spain and Mexico. Twice a day Freedom Flights began in December 1, 1965 under an agreement between the two governments for the purpose of family reunion. Parents of unaccompanied minors were accorded first priority. Close to 90% of those still in care were reunited with their parents by June of 1966.

Accordingly, the Cubans arriving in Rhode Island were no longer the young people like those mentioned above. Some of them were the parents of the children who were put on planes bound for Miami. These adults were brought to Rhode Island by the Catholic Charities and also placed in temporary homes while they waited to be reunited with their children who lived in other states. Others were given "refugee" status and brought to Rhode Island because they already had family members living in Rhode Island who sponsored and opened their homes to them.

And still, others were professionals who had settled in Rhode Island because jobs were made available to them. According to a newspaper article in 1966, most Cubans who came to Rhode Island between 1964-1966 were "highly educated professionals; businessmen, medical doctors. Very few were unskilled laborers or blue collar workers."

Most of the Cuban doctors who came to Rhode Island were encouraged to come here by physicians such as Dr. Blas Moreno, and they found jobs at St. Joseph's Hospital (run by the Catholic Diocese of Providence) and also Miriam Hospital (run by the Jewish Community of RI). Several were also hired to work at Pawtucket Memorial, including Dr. Eduardo Salabert, president of El Club Cubano (the Cuban Club of RI).



© All Rights Reserved | Nuestras Raíces: Latino History of RI © | When using materials from this website, please acknowledge by stating the name of the URL of the webpage on which it is displayed. Citations should include full bibliographic information as follows: Courtesy of the Latino Oral History Project of Rhode Island, Central Falls, RI.