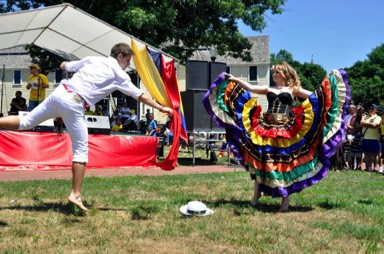 Slide your cursor over above photo ...
Colombian Immigration to the U.S.
Like most Hispanic immigrants, Colombians coming to the United States did not start to appear in significant numbers until recent decades. In 1960, fewer than 3,000 Colombians immigrated to the United States, but by 1965, that number had grown to 11,000. Another 65,000 came during the late-1960s, followed by the peak years of Colombian immigration in the 1970s when up to 78,000 made their way to the U.S. In the 1980s, this wave started to taper off, and today a slow but steady stream of immigrant peoples still moves from Colombia to the United States.


While Colombian immigration today may be caused by the recent years of political turmoil and social unrest, the majority of Colombian immigrants came to the U.S. before the so-called "drug wars." Colombians have a deeply-rooted perception about economic and political opportunities in the United States, which is found to be an important factor for immigration here, more so than war or unemployment back home. Colombians have immigrated to traditional Hispanic destinations such as New York City, Florida and New Jersey, but also to peripheral areas such as Rhode Island, Massachusetts and even South Carolina.
Colombians in Rhode Island
The Colombian community of Rhode Island plays an important role in the history and growth of the City of Central Falls. For it is here that active recruitment of labor by local factories was influential in bringing the large Colombian population to the state. Research on this community shows that this migration to Rhode Island by the Colombians began in 1965, and the history of Colombians in Rhode Island is connected to factories and textile mills in Central Falls.
Central Falls is located in the Blackstone Valley. This area is often recognized as the birthplace of the American factory system. The first person to bring industry to the region was Samuel Slater, who in 1790 opened the first American cotton-spinning mill in nearby Pawtucket. Like the Colombian workers who have worked in the textile mills during the past thirty years, Slater was also an immigrant to the United States. He had come to Pawtucket from England, after learning the working of the first cotton-spinning machinery as an apprentice to its inventor. When driving from Providence to Central Falls, one passes the old
Slater Mill
and is reminded of the long history of which the Colombian community has become a part.
Remarkably enough, almost all of the Colombians who live in Central Falls today come from one of two regions in Colombia: the
Antioquia
Province, in the central mountainous region, and
Baranquilla
, located on the Atlantic coast.
Antioquia
, of which the capital is
Medellín
, has historically been one of the most developed and industrialized areas of Colombia. As far back as the 1920s, textiles were the biggest manufacturing industry there, besides coffee processing.
The Colombian population in Rhode Island owes its beginnings to one gentleman who, in the early 1960s, had an insightful and innovative idea:
Jay Giuttari
, whose father owned
Lyon Silk Works, Inc
, a textile mill in Central Falls, was aware that his father, like other mill owners at that time were having a hard time attracting young people to work in textiles. At the turn of the century there were many textile mills and an abundance of workers in the textile business in Rhode Island, but by the early 1960s that was changing. Many of the workers at the mills in Central Falls were aging into their 60s and 70s, and it was rare to see a 20-year-old weaver. Weaving and loom fixing and working in the textile mill were very difficult jobs, and young people preferred jobs that were not so physically demanding.
In the early 1960s, Giuttari was living and working in Colombia and it was then that he saw first-hand the highly skilled work of the textile workers in
Barranquilla
. Because he understood his father's predicament and because he understood textiles, he knew where to find weavers and loom fixers in Colombia. He visited one of the mills across from his job site in
Barranquilla
and recruited three men to work in his father's mill back in Central Falls. The three men were
Gustavo Carreño
,
Valentín Ríos
both in their 20s, and factory supervisor
*
Horacio Gil (1916-1996). All three arrived in Rhode Island in March of 1965. The following August in 1965, Jay sponsored Fidel Díaz, who he knew in Barranquilla, met him at the airport in Boston, and brought him to work at
Lyon
.
Because all of these men were already skilled workers who had been working in the textile industry in Colombia, they proved to be excellent workers. According to Giuttari, the idea quickly caught on and many other mills in Central Falls and the Blackstone Valley began to recruit Colombian workers to fill the labor shortage in Rhode Island. In the years that followed, business owners from other mills, such as
Pontiac Weaving
and
the Cadillac Textile Mill
in Cumberland, traveled to
Medellín
and
Barranquilla
to recruit more workers.
It was these men and the families who followed that stopped the textile business in Rhode Island from fading away in the 1960s.
By the mid-70s, the textile factories stopped recruiting Colombian labor workers and many followed mill jobs that took them to warmer weather. However, a steady flow of family and friends from Colombia continued to make their way to Rhode Island for the next ten years. Many Colombians moved to Rhode Island from New York, like other immigrants, in search of a more peaceful life. Employment opportunities here were good and the promise of a good education, the opportunity to start a business and reunification with family were many reasons for coming to Rhode Island. The promise of jobs were always available to the Colombians who came to Central Falls, Pawtucket and Cumberland, and many of the mills employed generations of families because they proved to be hard working and dedicated workers.
In the mid-1980s, however, all that changed when most of the mills and factories began to slow production and the owners were forced to lay off hundreds of workers as they prepared for the businesses to shut down for good. This posed an especially difficult problem for Colombians employed at these factories. Many workers began moving to South Carolina, where it was rumored that the textile mills there were looking for workers. It was especially difficult for those who had come in the early years, because they did not feel like uprooting their families for a second time. Another issue they faced was the fact that despite having lived in America for almost 15 years before the factories began closing down, they still had not had the opportunity, nor did they feel it necessary to learn English. In the 1970s
Bernardo Chamorro
,
a millworker, said that he spent so much time with other Colombians at work, at home, and socializing that he never felt the need to learn English. Anyone who walked through the mills on any given day could hear the buzzing of the Spanish language as the workers busied themselves with their daily tasks.
Many families did not, however, believe that their lives were over when the mills began to close. Instead, they saw this as an opportunity to seek new skills, including the learning of the English language. Many of today's Colombian families who grew up in Central Falls are now college graduates, are professionals, have opened their own businesses, purchased their own home, and are fully integrated into American society while embracing their Colombian roots.
* According to Jay Guittari, Horacio Gil moved to California within a year after his arrival in Rhode Island to reconnect with family members. Records show that while there, he became a U.S. Citizen in October 1971 and lived in Los Angeles until he passed away on April 9, 1996.
Central Falls Evolves | 1980s to present
In the 1980s and 90s, the Colombian community of Rhode Island continued to grow steadily, and Central Falls remained as their destination whether it be directly from Colombia, or from places like Florida, where a number of Colombians who were living there felt it was time to be reunited with families in Rhode Island. Businesses grew to the point where one could walk down Dexter or Broad Streets in Central Falls and find Spanish-language signs boasting Colombian-owned markets, restaurants, bakeries, record stores, beauty salons, and even a social service agency founded by Colombians. Cultural organizations such as the Colombian-American Association were formed, and the local Catholic and Episcopal churches began holding religious services entirely in Spanish.

The development of the Colombian community in Central Falls has brought a large increase in their numbers. While the early Colombian settlers came to Central Falls to make a living, they did not plan to establish an enclave. Today, however, the Colombians are very much an established part of Central Falls, and the children and grandchildren of the first families in the city are in a better position to organize their community and to promote their culture, while seeking a greater presence in the larger American society.

In the Fall of 2001, Latinos in Central Falls were instrumental in the election of Ricardo Patiño, the first Latino Council member (a Colombian) in City Hall. In 2012, after a very successful Census campaign which empowered Latinos in Central Falls and put the city on the national map, history was made when residents elected James Diossa, the first Colombian-American mayor in Central Falls.

Following Diossa's tenure, in 2020 Central Falls elected Maria Rivera, the city's first-ever Latina mayor, who is also the first Latina mayor in Rhode Island, whose parents came to Central Falls from Puerto Rico, by way of New Jersey.

This is indeed a message to the greater community of Rhode Island that Latinos have voting power in the City of Central Falls, and are definitely here to stay.
Above:
The newly-elected Mayor James Diossa, proudly waves the Colombian flag in 2012.
Right:
Maria Rivera, during an interview about her trip to Puerto Rico in 2019, after
Hurricane Maria
had ravaged the island.
(Photos by Marta V. Martínez)
© All Rights Reserved | Nuestras Raíces: Latino History of RI © | When using materials from this website, please acknowledge by stating the name of the URL of the webpage on which it is displayed. Citations should include full bibliographic information as follows: Courtesy of the Latino Oral History Project of Rhode Island, Central Falls, RI.