Ceci Cano
April | 2020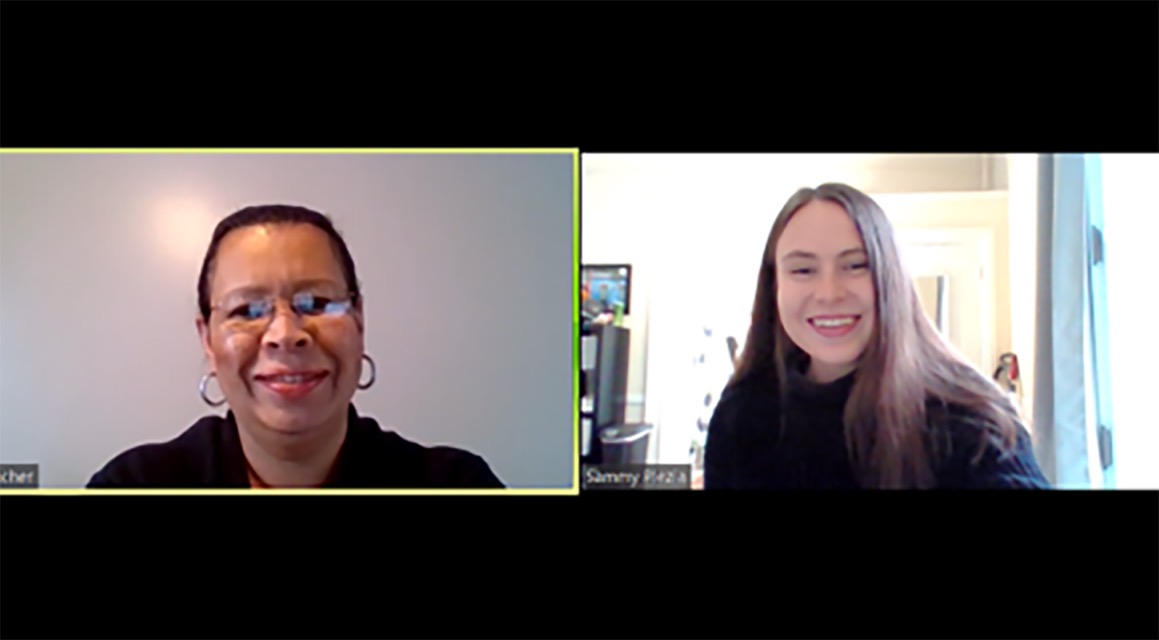 Maria Cecilia Cano, better known as Ceci, currently lives in Pawtucket with her two teenage children and has lived in Rhode Island since 1969. Since the COVID-19 outbreak, she says that she makes sure to talk with her mother every day, who also lives in Pawtucket, and also with her family in her native Colombia. Her 94-year-old father still lives in Colombia, alongside many other family members and close friends. When Ceci and I spoke on April 17, 2020, I asked her what she would do first if we no longer had to practice physical distancing due to the coronavirus. She replied immediately saying she would travel to Colombia to be with her family.
Our conversation addressed a variety of topics — work, travel, technology, and healthcare. But, we always returned to this core notion of community. Though Ceci is unable physically to be with all of her family right now, she is making the most of the situation, posting on
Facebook
daily to spark conversations with those abroad, or sending messages to everyone in Colombia via
WhatsApp
. It's clear that, despite the pain of not knowing when she is able to physically be with her family in Colombia, Ceci is demonstrating her strength by making the most of our new reality and keeping her loved ones close.
In addition to prioritizing her relationships during this time, Ceci is keeping busy with her work. She is using Distance Learning to teach Spanish at a local high school, and recently began interpreting for Governor Gina Raimondo's daily COVID-19 press conferences. The latter has been an exciting challenge for Ceci because it gives her the opportunity to learn more about what goes on behind-the-scenes of the government's coronavirus response.
We spoke about the difficulties of interpreting, specifically having to translate idioms in English over to phrases in Spanish. We spoke about how Ceci's friends in Colombia listen to her interpretations daily and jokingly call attention to any minor mistakes. We spoke about how she has started to share pictures of herself on
Facebook
from the Governor's press conferences, and how her friends excitedly wait for them to be posted so they can stay up-to-date on her life.
Our conversation served as an important reminder to me that we are all working to find our new normal and continue to grow during this experience. There is no denying that this is a challenging time in the world right now, and Ceci is trying her hardest to make the most of the situation.
To end the conversation, I asked Ceci what she thinks we might learn from this pandemic. Her response showcased her positivity once again:
"Yo pienso que es como valorar muchas cosas que nunca las habíamos valorado."
Ceci believes that [the greatest lesson we'll learn] is how to value many things that we had never valued. She refers specifically to our health, as well as our families and how we now spend our time. For once, we are not consumed by this 'hustle-bustle' culture where we need to be continuously on the move.
Personally, I think we can all learn from Ceci in this moment by taking a step back and practicing gratitude when appropriate. As she said in the interview, this situation, albeit incredibly difficult, is giving us a new opportunity to make some changes in the way we live.
Original interview conducted in Spanish
Interview by Samantha "Sammy" Plezia
Brown University, Class of 2022

Next ►


◀︎ Back to Main Block page