Mexicans in the U.S: 20th Century Migration
Slide your cursor over photo ...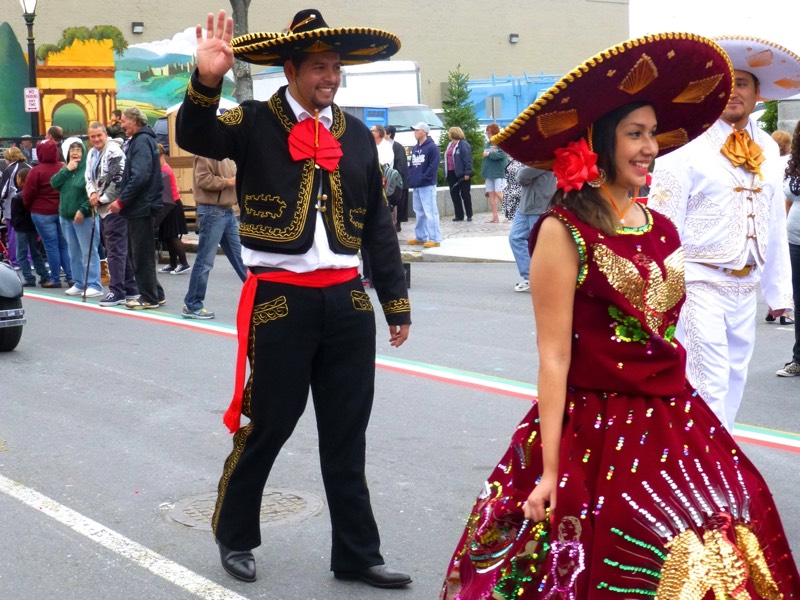 The Mexican immigration to the U.S. between 1890 and 1965 has been called one of the most significant demographic phenomena in the history of the Americas. This Mexican migration took many forms and contributed greatly to the growth and development of the United States as a nation. The first movement to El Norte (the north) took place after the 1910 revolution in Mexico when farmhands, shepherds, miners and vaqueros [cowboys] felt a call to go north in search of better and higher paying work. Going northward was sought out by poor men and women who were unable to find decent work within their borders. They left Mexico looking for a land of milk and honey, where they could raise their children properly and prosperously.
In 1924, Plutarco Elías Calles became President of Mexico. The 1924 Calles campaign was the first populist presidential campaign in Mexico's history when he called for land redistribution and promised equal justice, expanded education, further labor rights, and democratic governance. During his term, he built and additional 2,000 schools and extended education to indigenous people in rural pueblos.

Also during his term, the United States and Mexico's tense relationship softened and the U.S. eventually extended formal diplomatic relations to Mexico.

It was around the time when Calle became president of Mexico that a small Mexican Consulate office appears in downtown Providence. A Providence Journal article reads:
Edgar L. Burchell, life-long resident of Pawtucket and a practicing attorney … received today from Washington his appointment as Mexican Honorary Consul for the state of Rhode Island. He started immediately to conduct the consular business from his law offices [at the Hospital Trust building.] The creation of a consulate in Rhode Island was brought about through the efforts of the federal trade committee of the Providence Chamber of Commerce.
Providence Journal, August 28, 1924
In December of 1928, Burchell is invited by President Calles to tour a number of schools in Mexico, and then assigned to write a report about what he saw to share with the people of Rhode Island. During that trip with support from the Providence Chamber of Commerce, Burchell strengthens business relationships between Rhode Island and Mexico in the exportation of machinery, jewelry, screws, nails and files.
In 1930, Burchell acts as Ambassador of Goodwill by encouraging writing and gift exchanges between children at the Barnard School in Providence and those at the Arco Museo in Mexico City. In May of that year, he hosts Mexican Vice Consul Manuel Cruz, who delivers letters from the Mexican children to Rhode Island. While here, the Vice Consul takes the opportunity to meet with Governor Norman S. Case and Providence Mayor James E. Dunne.
By 1938, Mexico and Rhode Island are doing brisk business and cargo ships come-and-go to/from Mexico, and soon the Mexican population in Rhode Island ranges between 15-28. Burchell's added tasks include hosting and finding housing and jobs for the Mexicans, the majority of whom live in Providence for months and sometimes over a year after docking port. An article in the Providence Journal dated February 1, 1938 states: "Burchell also serves as immigration officer, diplomat, tourist agent, tax collector, and clearing ships [was] one of his major jobs."

Another newspaper article notes that Edith C. Johnson of Pawtucket, who was Burchell's secretary and appointed Vice Consul, arranged for jobs for the Mexicans in tobacco fields in nearby Connecticut, and often served as social worker and confidant to those who needed assistance or were simply homesick. The article also states that Ms. Johnson was then the only woman in the Mexican consular service.
In 1942, Labor shortages during World War II led the U.S. government to negotiate with the Mexican government to recruit Mexican workers, all male and without their families, to work on short-term contracts in U.S. agriculture and in other war industries. This was referred to as the Bracero Agreement, so called because Bracero is a Spanish term which can be defined loosely as "one who works with his arms", or as a close equivalent, as a field hand.

One of Burchell's last acts as Mexican Consul was to help relieve the dire labor shortage during World War II by arranging for a group of the Braceros to travel to Rhode Island to work on the New Haven Railroad.
NOTE: As the United States enters WWII, Burchell is relieved of his duties as Mexican Consul, but continues his brisk business as a lawyer until his retirement in 1954.

Burchell died in 1961 at the age of 85 and is buried in the the Mineral Spring Cemetery in Pawtucket, RI.


© All Rights Reserved | Nuestras Raíces: Latino History of RI © | When using materials from this website, please acknowledge by stating the name of the URL of the webpage on which it is displayed. Citations should include full bibliographic information as follows: Courtesy of the Latino Oral History Project of Rhode Island, Central Falls, RI.